Another Cheap Sledge £9.99 @ Argos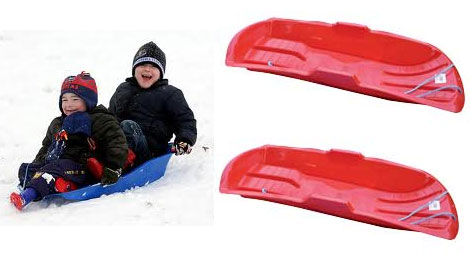 Continuing my cold theme of the day, Argos have cheap sledges up for grabs for £9.99.
Despite my, now, BAH HUMBUG feelings towards snow I haven't always felt this way.
Years and years ago I went sledging on these cheap sledges from Argos with my friend from school.
We were about 14 and it really threw it down with snow that year; everyone was out with these cheap sledges and they were loads of fun!
You can sit two kids in them and they're big, and deep, enough to make sure that you don't end up with all the snow around your bum - the precise dimensions are:  (H)14, (W)13, (D)92cm and have a maximum weight capacity of 60kgs (we must have weighed more than that...)
These cheap sledges are currently out of stock for home delivery, but let's face it you're not going to want to pay the extortionate £5.95 that Argos charge for home delivery.
Not only that, if you're mad enough to want to go out and play in the snow then you can jolly well brave the cold to go and collect your cheap sledge in store!
Thanks to haylhoo over at HUKD