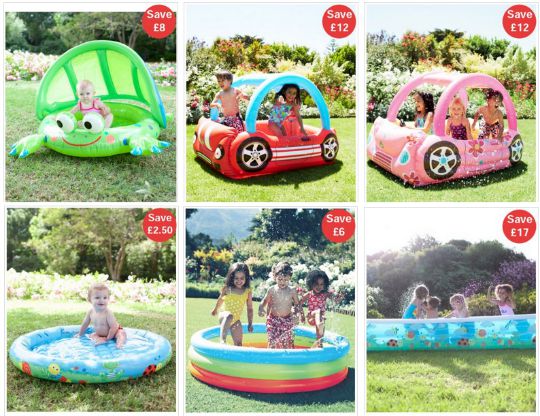 ELC have slashed the prices of their paddling pools, and with only one exception they are all half price! Prices start at just £2.50, and there are some great play pools, baby pools, water play mates and more.
The only pool that isn't reduced is the Thomas the Tank Engine one, which is over priced at £12.99, but all the others have the full 50% discount.
For £2.50 you can get My First Pool which is a shallow baby splash pool, the Frog Baby Shade Pool is now £8, three ring pools start at £6 too.
I think the best value are the Racer Pools in red or pink, as they look so much fun, are an unusual design, and would work really well as a ball pool as well as they are quite deep. At £12.50 each these are great value for a novelty pool.
Any of these ELC pools can be collected for free from stores, delivery is free over £50, otherwise charges will apply.