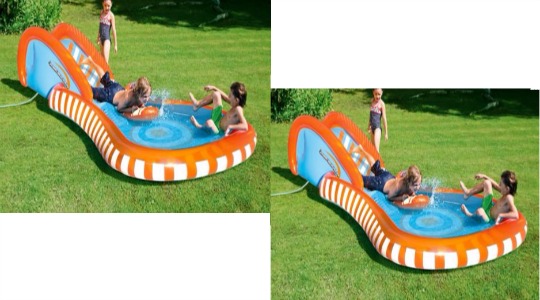 I have been looking for something really fun for the kids and I think I have found it. The Chad Valley Splash Slide Rider is one of the coolest garden toys I have ever seen. It was £39.99 and is now £34.99. It's only £5 off but it looks like a lot of giggles for the money. It's inflatable, slippery and splashes water about.
The Chad Valley Splash Slide Rider attaches to the garden hose to activate the water sprayer. The whole unit is secured to the ground by six ground stakes. With kids (and maybe adults) jumping and sliding about it'll need to stay put or else it'll be useless.
It comes with one inflatable float and the kids take turns with it to skid down the slippery slide into the water. This is most definitely one for those hot days. The kids will love it and will be hyperactive each and every time you pull this out of the shed.
You can Reserve and Collect the Chad Valley Splash Slide Rider for FREE from an Argos near you or pay £3.95 to have it delivered to your home.