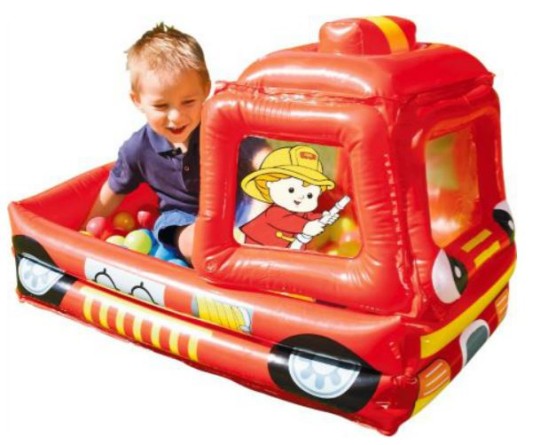 Argos have this really sweet Chad Valley Fire Engine Pool on sale for £4.99. It's normal price is £9.99 and while it's available for that price on eBay, I can't see an overly similar thing elsewhere. Anyway, £4.99 for something that can keep smalls busy for hours is a total bonus. These are available for free click and collect, or you can have them home delivered for £3.95 so you're still getting it for under £10. 
What is it about a ball pit that makes it so appealing? I have no idea, but whether it's just to spend time throwing balls out of a pit, or to 'swim' through them, or simply to sit and explore the sensory sensations of a ball pool, they certainly love it. We went to a 1st birthday party a while ago where the only entertainment was the ball pit and children from ages 1 through to 5 had a ball. No pun intended.
This Fire Engine Pool can clearly be either a pool or a ball pit.
Reviews for it are great, people love it, and it takes less than 5 minutes to inflate and you're away.
Thanks to Poppyj1 at HUKD