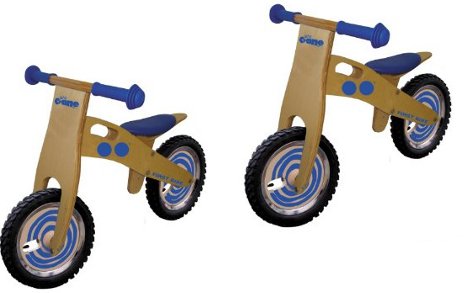 One of Amazon's deals of the week is this lovely starter bicycle from John Crane, half price at just £29.99 instead of £59.99.
It will come  as no surprise to you, I'm sure, that I just love John Crane toys, but generally just look longingly at them rather than even thinking about buying them. They're definitely in that wooden toys category of things I love but cannot afford.
Well, Amazon to the rescue as this starter bike – without support wheels (which is the point as Simon points out in the comments below)! – is half price.
The bike has a useful carry handle for parents, and has pneumatic – or reinforced rubber filled with compressed air – tyres. The seat is height adjustable, which is great for your taller child and the handles have easy-grip covers.  The bike comes in three parts, but should be easy enough to assemble.
The reviewers on Amazon weren't impressed with workmanship and quality, which seems to be an issue for some of them, which is sad as I know a few people with these bikes who absolutely love them.  So, if you buy this, I guess just keep the receipt in case it needs to go back!