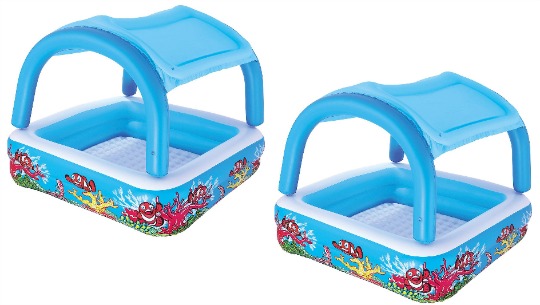 Looking for something to entertain the kids on those nice, sunny days? This Bestway Canopy Play Pool from Very has money off at the moment and is a good shout if you are in need of a paddling pool. It is reduced from £25 to just £12.50. This pool looks to have a bit of shade for those little people with their precious skin exposed.
The Bestway Canopy Play Pool has a rating of 4.5 stars on the Very site and the reviews are great. Have a look for yourself. I think that for just £12.50 this pool is most definitely worth consideration.
This paddling pool has a canopy to stop the sun beating directly onto your little ones as they play. This is a feature that will appeal to most parents I think. If for any reason, you don't want the canopy on it can be removed.
The pool can hold 265 litres which makes this pool a reasonable size for little ones.
You can use Collect+, which is FREE to pick up your order from a local shop or pay £3.95 for home delivery.