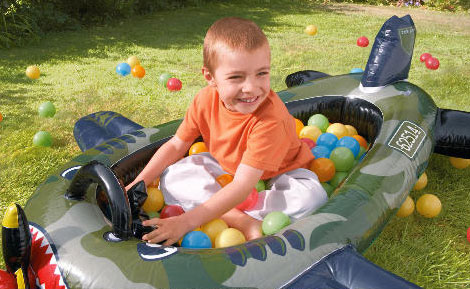 Tesco Direct are selling this Aeroplane Ball Pit for £4.95 instead of...well, I don't know instead of how much because they don't say.
However, the other ball pits on the Tesco Direct website are around the £15 mark, so this is a nice little price for a little ball pit, even if it happens to be the rrp.
What can I tell you about it...?
Erm...it's a little inflatable pit in the shape of an aeroplane. You'll need to inflate it yourself either using your own lung power or a suitable foot pump and you can fill the pit bit with plastic balls *grin*
You'll have to excuse my 'funny' mood this morning but, seriously, how much can you say about an Aeroplane ball pit?
I can't find ANY information anywhere to suggest whether the Aeroplane ball pit comes complete with plastic balls or not - hopefully it'll be clear on the box, so when you collect it from your local Tesco (as there's NO point paying £5 for home delivery) you can pick up some balls if not.
The age range for the Aeroplane ball pit is 2 years onwards; not sure why not younger than 2 years old, I can't see any small parts or reason why younger littlies couldn't enjoy this too.
Thanks to missgem at HUKD