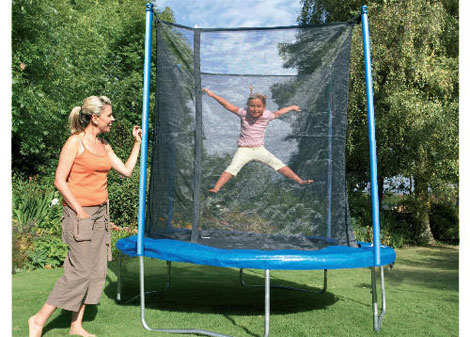 If you bounce over to Tesco, you'll be able to pick up an 8ft trampoline, complete with safety enclosure, for £60.60 instead of £119.97.
My children ADORED their trampoline – at almost 17 and 16 bouncing around on a trampoline isn't very cool anymore – but before they hit 14, it got them out of the house and into the fresh air.
It's surprisingly physical just bouncing around so it's great exercise and above all else, it's FUN!
Everything you need to put the trampoline together is included in the box and all the steel tubes are made of galvanised steel to prevent any rust or deterioration of the frame, so it's going to last for a very long time.
The safety enclosure will prevent the most exuberant of bouncers from launching themselves into your flower beds and give you some peace of mind, when you can't keep your eyes on them all the time.
The published price on the website is £85.00 but if you add this code to your basket - TD-TRE7 - then it comes down to a rather marvellous £60.60, but you can only use this code ONCE per Tesco account so make sure you use it wisely.
You can arrange to collect it from your local Tesco for free or have it delivered to your home for at least £5.00 - I say 'at least' because it's going to be heavy and I don't know whether delivery will cost more as a result.
Either way, it's a great price and your child(ren) will happily spend the entire summer bouncing away on it.
Thanks to Xhausted at HUKD