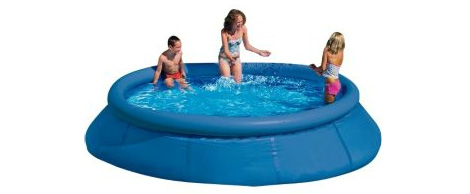 QUICK! Argos are selling this 8ft Quick Up pool for half price, £17.49 instead of £34.99.
WHEN the summer decides to show itself again and stick around for more than a couple of weeks, your kids will love having one of these in the garden to splash around in.
The official blurb says it takes approximately seven minutes to inflate.  I can buy into that but I don't believe for a minute that it'll only take 16 minutes to fill it up - maybe if you have a friendly fireman who'll come round and fill it for you with his high-powered hose, otherwise I rather think you'll be in for the long haul.
I base this on my own experience with a 12ft Quick Up pool, that big boy took FOREVER to fill up.
The 8ft Quick Up pool holds 2,300 litres of water, comes with a repair patch and a UK helpline number: 0800 612 0457.  This made me laugh - you can imagine the calls that go through to that line can't you...
"Hello, I 've bought an 8ft Quick Up pool."
"Excellent; how may I help you?"
"What do I do now?"
"Umm...inflate then fill it up with water?!"
I would also suggest getting a cover for it too a) to keep any heat in and b) to keep flies and mossies out and to keep the water from going green and skanky - it's amazing how quickly that happens!
Thanks to nicster08 at HUKD