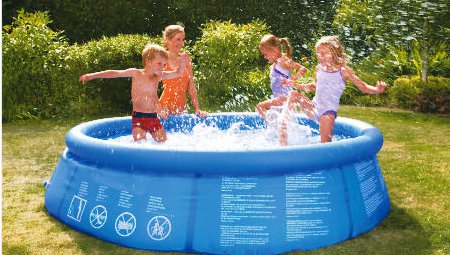 At half price, this £15 pool from Tesco Direct seems like a perfect way to kill many hours relatively cheaply.
There's nothing quite like submerging yourself in cool water on a sweltering hot day, and where better to do so than your own garden. (Okay, I can think of a ton of places better than my garden, but you know, we make do!)
This pool from Tesco is made of durable three-ply heavy gauge PVC and is easy to put up. In theory, you inflate the ring at the top of the pool and the pool sides will rise as it fills with water.   Some reviewers say it does just that, some say it's not that easy.
Speaking of reviewers, their views are rather mixed, some love it, some really don't – but it seems if you get one that's not great, send it back for another. Either way the kids love it and it has 8.4 out of 10 stars, so it can't be that bad.
It's a rather deep pool too, as it holds 608 gallons/2,300 litres of water, so have fun, pour a Mojito, but don't leave little ones to swim alone!
Thanks to Lucerysmum at HUKD