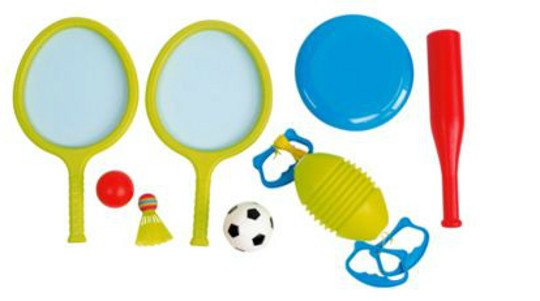 Tesco have a 5 in 1 games bag on offer for £3.98 instead of £7.98, giving you a £4 saving on tennis, rounders, frizbee, football and zoomer - whatever that is!
There are no reviews of this set on the site, and there's not a huge amount of information, so apart from the fact that you're given the equipment to play the games mentioned above, well - there's not much else to tell you. At under £8 for the original price I don't imagine it's going to be the best quality you've ever come across in garden toys, but at under £4 there's bound to be value for money in the amount of time the kids get to spend outdoors with it!
From the looks of it, there's nothing in that set that's going to break the neighbour's windows, which makes it ideal for small gardens or communal areas. The product weight is 600g, which makes it sound rather flimsy, to be honest, but again - you're probably getting what you pay for. A bit of fun and something light and convenient to take along if you're heading off on a sun-seeking holiday.
Thanks to taswir1 at HUKD