4 Seater Patio Furniture Set With Table & Parasol: £50.99 with code @ Argos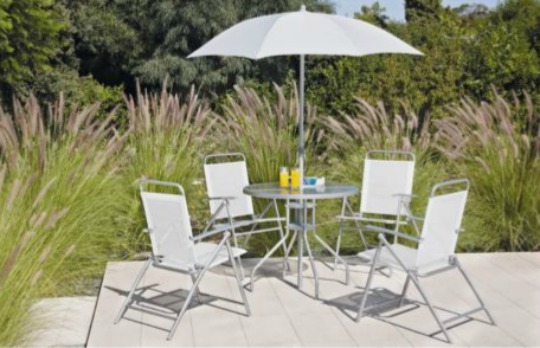 The sun is shining beautifully here today, and the kids have spent the whole day outside. Looking at our mismatched garden furniture from years past I'm very tempted to upgrade to a proper patio set and this one is only £50.99 with the voucher code GARFUR15 at Argos.
It includes a table, parasol, and 4 chairs and everything folds up for easy storage over the winter. It is a value set, but the reviews are a very impressive 4.5 out of 5. There is loads of stock around for the free click and collect service, and this patio set can also be home delivered from £3.95.
If you would prefer a larger set or a different design then the voucher code GARFUR15 will give 15% off all garden furniture over £50, so you could use it on a garden bench, a shady arbour, gazebo, or a huge day bed! Let's get outside while the sun is shining. :)