4 Person Teepee £39.99 @ Argos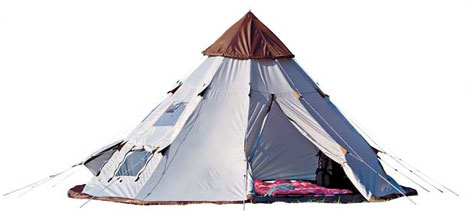 The other day I told you about a teepee tent for kids, great for them but what if you want a bigger 4-person Teepee ? Well now you can have one!
I'll try my best to get excited about this deal for you - but unless my trips away from home come with 24 hour concierge, room service and massage and spa facilities where I'M not actually the concierge, the chef and the masseuse then I find it a bit tricky.
So, camping - YAY! It's 'fun' and I totally understand why anyone would want to go away on holiday and do all the things they usually do at home but with almost zero facilities or equipment!
Oh ok, so I'm hamming it up a bit just for the fun of it. The last time I went camping was at the Donnington race track for a weekend of motobike racing, it WAS great fun and our tent, along with its little 'front garden' patch grass directly in front,  became a safe haven from the madness that is a huge group of bikers who've had one too many hotdogs.
This 4-person teepee has the following spec' and is a great bargain for all campers, festival goers and motorsport campsite goers as Argos have cut the price in half from £79.99 down to £39.99.
1 room.
2 doors, 4 windows, 4 PVC windows.
1 top air vent.
2000mm hydrostatic head.
Taped seams.
Fire retardant.
Tension adjusters.
Size (H)200, (W)360, (D)360cm.
Height at highest point 200cm.
Packed size (H)20, (W)20, (D)74cm.
Weight 6.95kg.
Thanks to taswir1 over at HUKD!