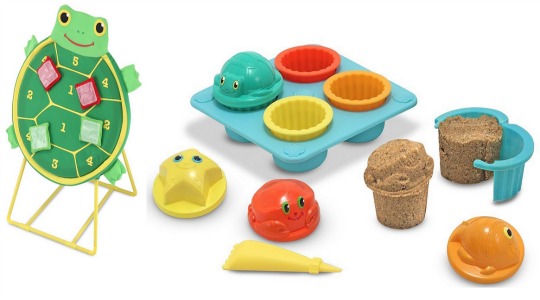 The sun is starting to make an appearance more and more which is great. It's always good when you can go outside and play with the kids. There's only so much Hide and Seek they can play before they get bored. The Melissa and Doug Sunny Patch Toy Collection is ideal for those nice days and it currently has up to 30% off at Amazon.
The Melissa and Doug Sunny Patch Toys are bright and look like awesome fun. Who doesn't want to make sand cupcakes with this Seaside Sidekicks Sand Cupcake Maker*? Now only £8.49.
It's hard work come the summer holidays when you need to get on with the chores and entertain the kids. A tip...get them to join in on those dreary duties. These Melissa and Doug Garden Tote Sets are just the ticket and will have the kids gardening alongside you. There are two to choose from: Turtle* at £7.49 and Blossom* at £6.99.
Delivery is FREE on all of these items when spending £20 or more at Amazon, or if you have Amazon Prime. It's £3.30 if those two don't apply. Don't have Amazon Prime? See how you can get it for less, here.