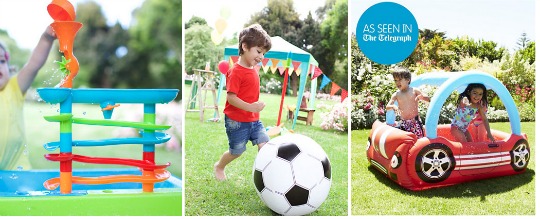 One of the new offers starting today at both ELC and Mothercare is  3 for 2 on ALL Outdoor and Sports toys! This isn't just the big toys like pools and ride ons, but includes even cheap items like bubbles, play sand and balls.
There are a huge amount of toys included in this offer, and you could get enough toys to keep the children happy outside for a good while with this offer. Some of the things that caught my eye are the Giant Football* for £5, the Pour and Play Water Run* at £12, and the Racer Pool at £25.
The offer is mix and match, so you can order whatever suits your children best, from bubble blowers and sand pits to trampolines and trikes.
Most of the items can be collected for free from stores (with the exceptions of some of the very large items like trampolines), or home delivery is from £3.95.