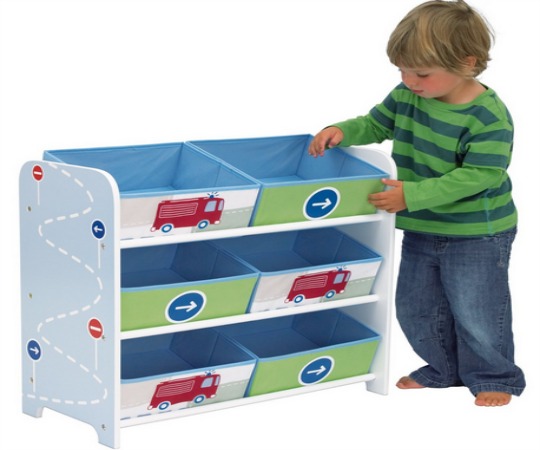 You need storage and you need it bad. If like me you don't want mounds of plastic boxes everywhere but rather something that looks like part of the furniture then this bad boy might just be what you are looking for. The World's Apart Vehicle Six Bin Storage is now just £26.10 from Amazon. Plus because it's over £10 you get FREE Super Saver delivery. This sells elsewhere for around the forty pound mark, so enjoy this price whilst it lasts.
I'd say this is aimed at a boys room, but that's not to say you couldn't put it in a nursery or a little girl's bedroom. If you are lucky you many even have a playroom or a dungeon for the kids to put this.
The frame is made from MDF, and the storage drawers are printed fabric. The drawers are quite generous so you may even put some clothing in this instead of toys. Whatever you store in it, this will look great in a little ones room.
After Christmas everyones house is chaos with toys strewn everywhere. Who thinks of where to put stuff when they buy Christmas presents? I don't! Grab one of these and get your house in order after that frantic festive period.