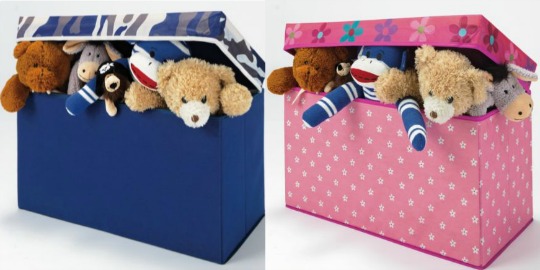 Storage. It's on my mind constantly at the moment. The living room floor is hidden under toys about two feet deep, which are already getting broken or lost under the sofa, and disaster - the mega bloks are getting mixed up with the duplo! The sooner I can sort out some storage for all the new toys the boys got at Christmas the better.
Looking to sort this issue I found these large upholstered storage boxes in the sale at Argos for the great price of £8.99 each. They come in Blue or Pink with matching patterned lids, and are big enough to store quite a few toys at a fraction of the price of the big wooden toy boxes.
They measure 32cm x 60cm x 30cm, so roughly two foot long and a foot wide and high which is fairly substantial. They also fold flat when not in use, so when I get round to the sneaky clearing out of the old broken toys and the boxes are no longer needed (I hope) they can be stored away neatly.
The only issue the reviewers are bringing up is that it looks like with an upholstered lid the boxes were sold as a storage seat, and many are saying the sides are not strong enough for the box to be used in this way. If you are planning on using it simply as a storage solution then this shouldn't be an issue.
Stock is extremely widely available, with there being some available in literally every store I checked. I just need to decide how many to order to clear all the toys away!