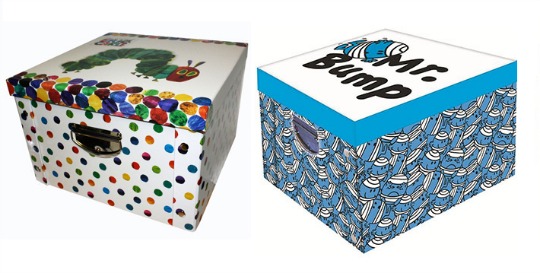 Still looking for storage? I can't seem to get enough boxes to put everything in , and as the kids open and play with more of the Christmas presents there are more craft things, mega blocks and lego that all need to have a home.
These Large Storage Boxes at The Works look like a really good option. They range in price from £6.99 to £10.99, but they are on offer at 2 for £10, and when you use the code FREE DELIVERY you get them with Free Standard Delivery too.
There are 55 different designs to choose from, but all can be mixed and matched on the offer. For the younger ones there are Mr Bump, Mr Tickle, and some Little Miss designs, as well as The Very Hungry Caterpillar. Older kids might like the Superman, Wonder Woman or the DC Heroes designs. There are also Roald Dahl, WWE, Peter Rabbit and lots of patterns that would be suitable for either boys or girls. There are also a fair few that are for the adults too - any Breaking Bad fans will be happy!
These are sturdy lidded boxes, most of them measuring 36cm x 36cm x 23cm, and they also collapse flat for delivery and for storage when not in use.
Remember to add 'FREE DELIVERY' in the promotional code box, or if you are buying more than just the 2 you can try the code TODAY25 which will give up to 25% off and free delivery over £10.
I showed them to my 5 year old thinking he would choose the Superman design. He wants the Marmite one.