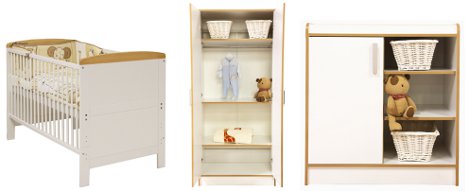 The Hemsley Nursery set at Kiddiecare is currently £399 – a £300 saving from the £699 RRP.  The set includes a cotbed, wardrobe and dresser.
One of the biggest expenses in setting up for a new baby is the furniture that goes into the nursery. Just last night I was saying that nurseries are a very Western thing, and according to the Bounty survey a cot is one of the things British mums consider to be an essential.
We never had one, for practicality sake – we didn't have the room – but if it's something you want, this set is a bargain, I think.
It comes with a cotbed with three position mattress base, meaning it works from newborn to 4 – 6 years of age as it changes to a toddler bed.  It doesn't come with a mattress though, so this will be extra.
The dresser has three shelves to the right and a single cupboard with 2 further shelves to keep your changing and bathing items handy. Again, this doesn't come with a changing mat, but they aren't too expensive.
The 2-door wardrobe has four internal shelves and a hanging rail – although we have added an extendable hanging rail to my daughter's wardrobe as there's so much wasted hanging space in a baby/toddler wardrobe.
While this is a sleek and clean-looking set, it is made of chipboard and plywood so won't be too heavy, but also won't last forever.
Thanks to goonertillidie at HUKD