Easy Tidy Play & Storage Mat £5.98 Delivered @ Amazon Seller Supply EU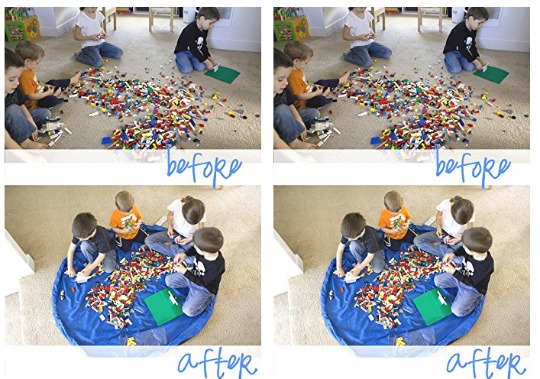 You know when your children empty out all over their LEGO and then you are left to tidy it all up. The frustration of picking up approximately 2000 bits has you contemplating sucking them all up in the vacuum. I have the solution, I really do. How about a play mat that converts into a storage bag, that requires zero effort? The Easy Tidy Play and Storage Mat is just £5.98 including postage from Amazon Seller Supply EU.
When I first clapped eyes on the Easy Tidy Play and Storage Mat I got all excited. Honestly, I am sick to the back teeth of going into my two eldest sons room to a sea of LEGO on the floor. I bet there are a few of you out there that feel the same.
This Play and Storage Mat provides a base for the kids to play on and when they are finished you just need to come along and scoop it all up and pull the drawstring at the top.
The drawstring tidies away into a pocket so that it is hidden during play. Read the reviews on this as it has pleased many parents.