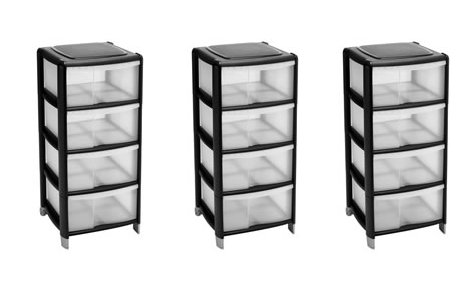 You can never have too much storage! These plastic drawer storage solutions are great and have SO many uses!
In the kids bedroom for toys, in the bathroom for wet toys or bathroom bits,  in the utility room for all the junk that tends to accumulate there but for some reason mustn't be thrown away.
Under worktops in the kitchen for extra pots and pan storage maybe, in the garage for all the things you keep in the garage that usually end up in a pile in the corner somewhere, like small garden toys, tennis balls, footballs etc.
If you have a very arty child then these plastic drawers are an ideal way of keeping pens, pencils, paper, rubbers, paints, paintbrushes and all the other arty-farty paraphernalia they accumulate in one place, and all neat and tidy.
Christmas time brings with it a while host of new toys that all need to be found homes, plastic drawers can help you out!
This four-drawer plastic storage unit from Wilkinsons was £20 but they're currently giving them away for £10 - I don't image they'll stay in stock for too long, so if you want one or two then I suggest you don't dawdle in placing your order.
You can collect your order from your local Wilkos or you can arrange to have them delivery your plastic drawers for £4.95.
Happy storing stuff!