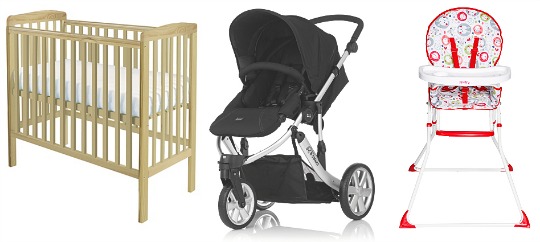 Asda are really good at hiding their promotions on their website - there's no big 'Special Offer' banner or anything on so many of their deals, and this is another one that I found by accident. They have 20% off selected baby items, across Travel, Furniture, Toys and Nursery - and when it says 'selected' there are nearly 350 items, so that's not too bad at all.
The discount is applied at the checkout, so the 20% hasn't yet been taken off the prices that are displayed in the website. When you take that extra discount off there are some really good prices there.
The Kinder Valley Toddler Beds come in a choice of colours, and work out at just £55.20. Cots are now £47.20, There is a Red Kite High Chair that comes to £22.40, Moses baskets from £20, along with loads more. Some of the items are already out of stock, though with items like a Britax Car Seat for £14.40 I'm not at all surprised!
If you need any baby items then it's worth a look at the Asda George website while this 20% offer is running, and before all the best bargains go!
Large furniture items cannot be collected from store, but the delivery charge for everything seems to be a standard £2.95.