Hello World Triple Pushchair Black £89.99 @ Kiddicare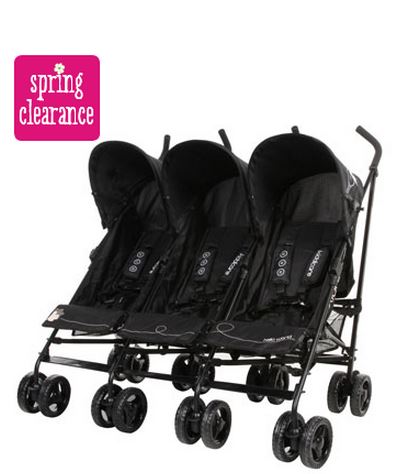 Kiddicare has it's Spring Clearance at the moment and one of the best offers is a Hello World Triple Pushchair for £89.99 when it was £249.99. Delivery is free as it's over the threshold.
I hated a pushchair. It's just not something I got on with, so both my girls were sling babies, until they could go into  trike and that worked for us, but a close friend had 'accidental' twins before her daughter turned one, and for her a buggy was essential. I remember chatting with her about the options (a conversation in which I honestly could not do anything more than be the person she bounced ideas off of - I had no experience to offer!) This would have been a great offer for her, I think!
The Kiddicare Triple pushchair is suitable from birth to 15kg. Each seat offers independent recline positions and adjustable footrests for each child's needs. It has chest pads for extra comfort and has an easy umbrella style fold, with a carry handle to make this an ideal choice for easy transportation. It also has a 5 point safety harness.
It comes with a rain cover, which is useful, I imagine, and also large storage baskets for all the kids stuff. The front wheels have a lockable front swivel and the handles have foam grips for pushing in comfort.