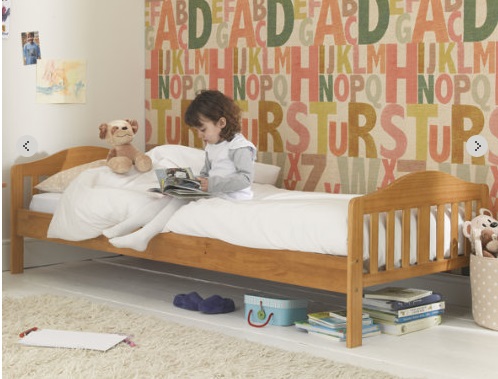 Mothercare have the Darlington Wooden Single Bed Frame in the clearance section for £39, with £2.95 delivery. You will need a mattress with this still. I have been looking around for something similar, and the closest I can see is £70 from Tesco.
Mothercare say that the Darlington Single Bed is suitable for children from age 4. It has a sturdy design, and measures at L194 x W86 x H62cm.
I think this is a fantastic price for a kids bed! We had one we paid over £100 for with a mattress that was so rubbish we had to replace it. I think this is a much better purchase.
You will have to put this bed together, but they say it's quite easy and your little one can get in and out of bed themselves.
This bed is made of 63% Pine, 37% LVL -  I have no idea what that is! - and you can simply wipe it clean with a damp cloth.
Thanks to Raechelle for letting us know about this deal!