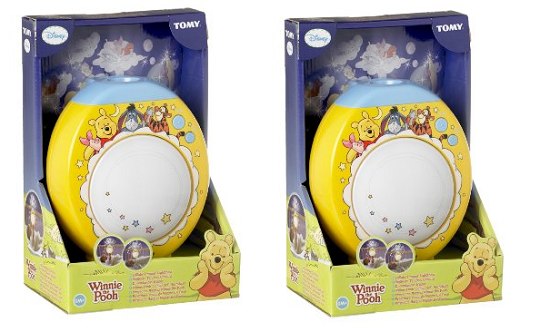 Well Hi There baby owners! This is a deal for you. The Winnie the Pooh Lullaby Dreams lightshow is down from £18.31 to £6.24 and this includes free delivery and it is a saving of £12.07 and you are taking 66% off the total price. And breathe…
The light needs four (gulp) AA batteries (get rechargeables) and is both a cot protector and nightlight all rolled into one. In projector mode character images are projected onto the ceiling or wall and in nighlight mode there is a rotating soft glow nightlight with all the characters in there too.
The toy plays three soothing lullabies and can be used to attach to the cot or it can stand on its own. The deal price is pretty darn epic on this one so if you know anyone with a tot or expecting, then this would make a lovely gift at a fraction of the price.