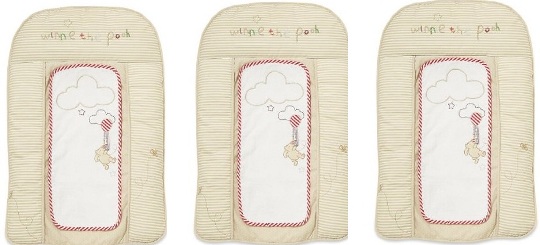 This Winnie the Pooh changing mat has been reduced from £29.99 to £19.99 at Mothercare. It is a saving of 33% off the original price but still astonishingly expensive in my book!
I think that £29.99 is an astonishingly huge price for a changing mat. I paid £1 for mine. However, if you are desperate for a branded changing mat that oozes luxury and fancy paying the reduced price, then this chap is for you.
The changing mat is designed to keep your little one comfy with a soft embroidered cotton cover and a towelling liner. Baby's skin will not be coming into contact with any cold surfaces any time soon!
The Winnie the Pooh changing mat co-ordinates with other items in the Mothercare branded nursery range so you can turn your nursery into a haven for that little bear. The cover and liner of this changing mat can both be removed for cleaning too.
I honestly wouldn't spend this much money on a changing mat – what do you think?