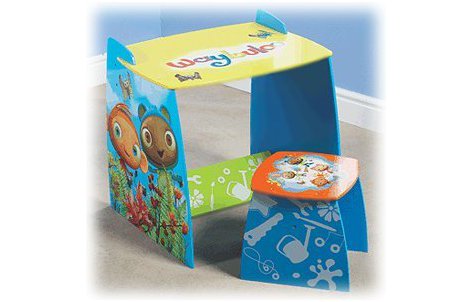 This Waybuloo Desk and Stool definitely has to be my deal of the day - it's been reduced from £49.99 right the way down to just £9.99.
I've yet to come across a young child who doesn't love Waybuloo and have a favourite Pipling character.  If you've not seen Waybuloo before then I'm not sure where you've been for the last two, or so, years since it first graced our TV screens, but you should watch it at least once.
Kids love to have their own special furniture - like this Waybuloo desk and chair - and aside from anything else it's much safer for them to be sitting on a chair or stool that 'fits' them, rather than kneeling precariously at a big table because they're too small to reach otherwise.
The Waybuloo desk and stool is printed with all sorts of everything Waybuloo – if your child's bedroom is already decorated with other Waybuloo bits and pieces then it'll fit right in.  If not, then it will make a nice feature item and take pride of place I'm sure.
The price for this Waybuloo desk and stool is SO good that I can't imagine it's going to stay in stock for very long.
Thanks to babyblue at HUKD