Vtech First Steps Baby Walker £19.46 @ Amazon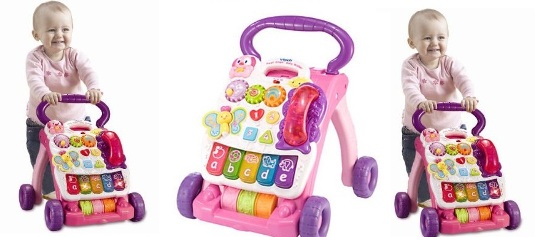 This Vtech First Steps baby walker in pink is down from £29.99 to £19.46 on Amazon at the moment. These are ace toys for little ones, I wish I'd got one for my daughter as she had loads of fun playing with them at other people's houses.
The Vtech First Steps baby walker has a sturdy design so that baby can cling to the bar for dear life and learn how to get their little legs working. The front features a detachable learning centre that's packed with musical and interactive educational activities.
They can smash away at the little alphabet keyboard, poke at the various sparkly and noisy characters like the butterfly and the dog, answer the pretend phone and then get up and try to walk all over again.
The textured wheels and easy grip handle help baby along and the entire thing can be assembled in a jiffy and stored away in small places when not in use. Great Christmas gift this one.