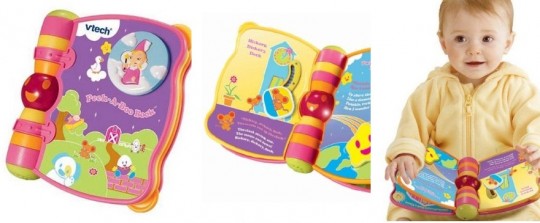 Amazon has taken 15% off this VTech Peek-a-Boo book in pink so it now costs only £10.99 instead of the usual £12.99. While not a gigantinormous discount, this 15% off does take the book down enough to make it a bargain, especially since it will be delivered for free.
The VTech Peek-a-Boo book is a classic nursery rhyme book that features six popular rhymes. These include Hey Diddle Diddle, Humpty Dumpty, Hickory Dickory Dock, Twinkle Twinkle Little Star, Rock A Bye Baby and Old Macdonald.
The toys has slide and push manipulative buttons to help encourage manual dexterity and discovery and the entire book is ace for helping children to start those fledgling language and reading skills. The pages are plastic and easily wiped clean too, which is another plus in my book.
The VTech Peek-a-Boo book would make a lovely Christmas gift for the latest little addition to your family, or that of any other close friends and family members. It comes with a user's manual and three AA batteries included.