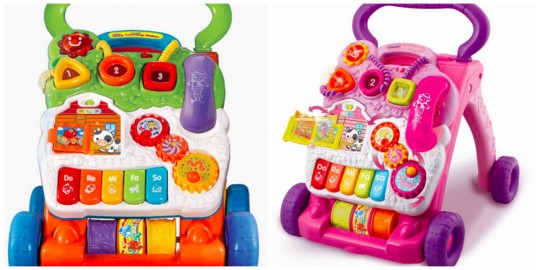 Glad tidings of great joy if you're thinking of buying a baby walker - the Mothercare deal of the day today is the VTech First Steps Baby Walker! Normally £32.99 at Mothercare, you can nab one today for just £19.99.
This is one of those completely indispensable baby toys that, once you've bought it, you'll wonder how you ever lived without it. It's basically an all-singing-and-dancing baby walker which can help develop little walking motor skills as well as hand-eye coordination.
I think it's infinitely better than other similar walker toys - because of all the noisy, light-up, fiddly interactive bits. It's a great introduction to letters, words, numbers, shapes, animals and colours.
My favourite feature is that you can even remove that part, so it's suitable for use in the car or in other contexts where you wouldn't use the whole walker but need something fun - and educational, to boot - to help keep a little one occupied for a while.
I love that it's available in two very different designs, too. There's this pink and purple option or this rainbow-coloured one.
Suitable from 6 months, it does require 2 x AA batteries which aren't included, so don't forget to pop them in your basket.
Standard UK delivery is £2.95 from Mothercare but free on orders over £50.00. Alternatively you can order one online and opt to use the Click & Collect service, picking it up from whichever branch of Mothercare is most convenient for you.