For the avoidance of doubt this is a 'tub chair' and not a hot tub in a chair as one of

my esteemed Play Pennies colleagues initially thought. Although if I ever find one of those I'll be sure to post all about it here. Anyway this faux leather tub chair has a foam padded seat cushion and fibre filled arms and sides, and it's just £40 right now, reduced from £80.
I don't know about you but I dream of a chair all of my own. I think it was Virginia Woolf that said a room of her own was all she needed and that sounds divine but I'll settle for a chair. One that doesn't get covered in biscuit crumbs, cat hair or sticky little fingerprints. One that I can sit in whenever I want, without first having to remove a mountain of Buzz Lightyears with missing limbs, or Transformers stuck in a midway mutant transformation between vehicle and, um, whatever it is Transformers are me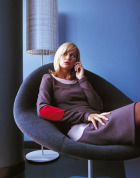 ant to transform into.
Anyway, I digress. Point is, I love the look of the stylish little number from Asda and I'm only gutted that it doesn't seem to come in brown, to match the rest of my furniture. I suppose I could splash out on the black but then I really would need a room of my own to put it in... Oooh that's sounding more and more appealing...
(Note, this is the chair of my dreams. The one from Asda is above!)
Thanks to JaRocks28 at HUKD