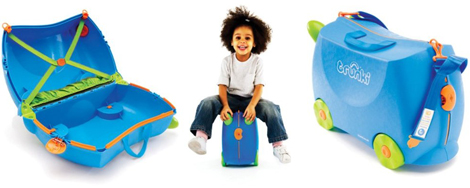 I am so in love with Trunki. I am. I can't help it. These are such a clever idea and they genuinely appeal to my inner child. Don't you think it would be just fabulous to have an adult sized Trunki so we could schweep, schweep through airports and have races while we wait for our planes? This particular Trunki is the original Terrance and he's down from £29.99 to only £25 including free delivery.
If you happen to have never seen a Trunki, heard of a Trunki or avoided Dragon's Den, then allow me to explain. These suitcases have been specifically designed for children. Children can pack them with their toys and travel essentials, seal it on up, climb on board and zip around the airport/home/relevant flat surface.
The Trunki also comes with straps so, if your tot is tired, you can pull them along while they simply sit on Trunki's back. You can get quite a few different designs actually so if you fancy spending more than £25 take a look at the other shapes on offer. The Trixie Trunki is down to £26.70 if you prefer pink.