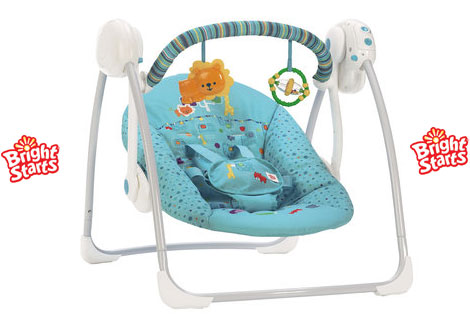 Babies R Us have a little bit of money taken off this Bright Starts Travel Baby Swing; it's £44.99 now instead of £54.99
When you have a baby in the house anything like a baby swing, rocking seat or baby bouncer is a must.
But what happens when you go visiting or you're out and about?
If you're lucky you'll find lots of willing bodies to hold your baby and wander around with them if they get upset; or YOU can do it but sometimes you just want to be able to put then down somewhere safe, so they can rock off to sleep and not leave anyone holding the baby.
This Bright Starts Travel Baby Swing looks like it could be just the job.
It's compact and portable, features and open top design to allow easy access to your baby.  It plays melodies, has a removeable toy bar along with its own swinging motion.
The swinging motion is actually 'Truespeed' technology which helps to automatically recognise the baby's weight and adjusts the swing's performance to maintain a consistent swing speed as baby grows; things weren't like this when my eldest two were small!
It has a five point safety harness, the swinging motion has three timer settings too, the melodies have volume control - it really is quite an amazing little travel baby swing; people who already have one certainly seem to think so...
"This swing is defintalely a god send, my 6-week old son loves it and will fall asleep quite quickly as he loves to be rocked... its so lightweight and small doesnt take up much room like other swings I've seen; ideal for taking on holidays or to grandparents house etc"
Happy Swinging!