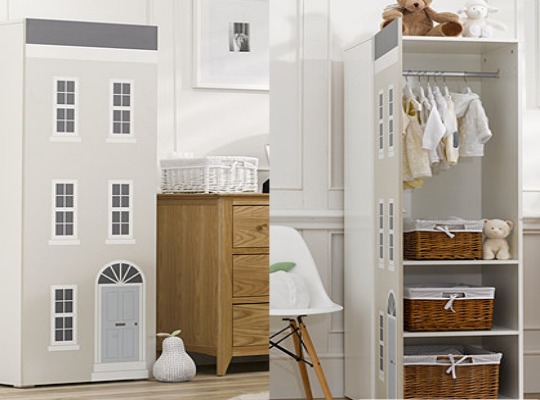 I am always on the lookout for quirky furniture and when I stumbled across this particular piece, at Mothercare, my eyes lit up. The Mothercare Town House Wardrobe is not only an eye-catching piece of furniture for a child's bedroom but a focal point. Oh and the most important bit is, it's half price. It had been £149 before the sale, which is reasonable, and is now only £74.99. You don't have to worry about huge delivery costs bumping up the price as it can be  delivered absolutely FREE of charge or collected for FREE from your nearest Mothercare store, when you opt for Click and Collect.
Every child needs somewhere to store their clothes, so why not opt for something a bit different? I reckon the Town House Wardrobe will vamp up even the most boring of rooms. The door of the wardrobe looks like the front of a Town House.
The wardrobe itself stands 1 metre 65 centemetres tall. That's a very good height for a child's one. The width is 55 cm and the depth is 52cm. All in all it's a great size for any size of room.
There's two shelves and a hanging rail so you should be able to fit a substancial amount in here.