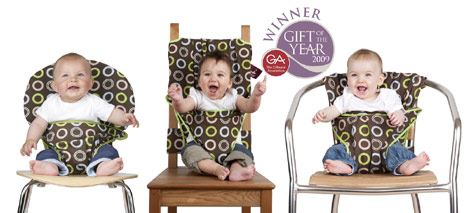 Here's a brilliant idea for a product I had never seen before - the Totseat! They call it the "washable, squashable highchair." Here is the website blurb about exactly what it does:
It converts dining chairs of all shapes and sizes into a highchair, squashes into its own tiny travel pouch, and is completely machine washable.
Totseat have kindly provided PlayPennies with an exclusive promotional code to get you discounted Totseats from their online store. Here are the details:
Promotional code: PLAYPENNIES
Deal: £20 Totseat & free delivery
So with the above promotional code, you can get the Totseat for only £20 including free UK delivery. I have done a quick price comparison, and if you are buying a Totseat elsewhere, you'd pay about £21+ at Amazon or Thatcuteage.
There are 4 colours to choose from, Blue Stripes, Bramble, Lime Stripes or Choc Chips. I think I prefer the choc chips. I guess your colour choice might also depend on the gender of your little one. If you'd like to read some reviews of the totseat, there's one piece here on Babyworld. Here's a snippet of one parent's experience:
The Totseat is fantastic - we've taken it everywhere. It was especially useful when my husband went to the US recently with Xander - he was staying with family and out and about - proper highchairs were like hens teeth.
I can imagine that the Totseat would be an excellent baby gadget when travelling!