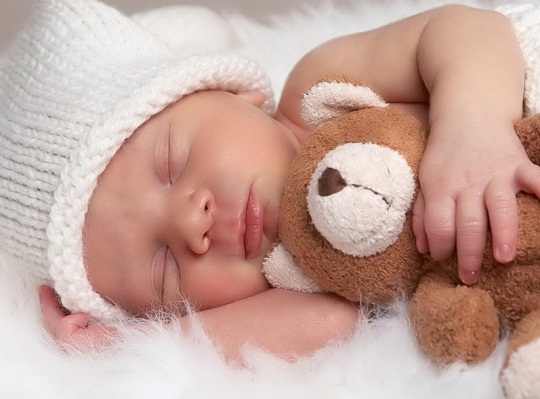 There are several big items that you'll be getting for the baby. First is the pram, and next is the cot or cot bed. A cot bed is one that will start out life like a traditional high sided cot, and then transform later into a bed suitable for toddlers. We've covered cots earlier, in this feature HERE. Now it is time to look at cot beds.
Cots are large, sizeable items, and if you're buying new you may need to order it in advance (so check on how long the delivery time is if you want one to arrive before the baby).
Brand new you could spend anywhere from £70 to £700 (actually, more than that. At the high end of the market there's cot s for prices that will truly make your eyes water).
This makes buying a cot bed tricky. Do you need to spend more money to get a bed that will last? What sorts of features should you be looking for? How does a cot bed work? I'll have a go at answering these questions, and more, in this feature.
Incidentally if you like the image above (and it is adorable) you can get it as wallpaper. Just click on the image for the link.
Most important feature
I asked friends and PlayPennies' parents what were the top features they looked for when buying a cotbed. The top two were safety features, and price. In fact, price came way ahead of what the cot actually looked like. Donna, mum of twins, commented that "ultimately, all these cots look pretty good really. They're done so neutrally, you aren't really going to end up with anything horrible or tasteless. As the bill tots up for the baby - babies for us - aesthetic values and style considerations go out the window. Function and price win out."
Height adjustable
Your cot bed will start out as a cot. The bottom should be height adjustable, so you can move it down lower as your baby grows.
Straightforward cots will offer two height settings usually. A higher one when baby is little and you need to get the baby in and out a lot. Then the lower setting for when baby is sitting up on their own. From this point, for safety, you do need to lower the bottom of the cot.
A cot bed, however, will usually have a third setting in the middle. This is for when it is transformed into a bed, as the lowest cot setting is lower than a bed would normally be.
Build quality and features
Other features for smaller babies are the same for cots and cot beds, and have been covered in the earlier feature. These include teething rails, and whether you should go for a drop side or a fixed side.
More expensive cot beds are usually heavier, made with thicker wood than the more budget models. Or at least that's the perception. It is well worth looking around at a few different models as more budget versions of cot beds can be just as sturdy and durable.
One interesting fact, pointed out to me for a few parents who had used cot beds, is that once you've lowered it and transformed into a cot bed, the headboard and footboard make it seem a lot sturdier. "I'd really wanted this cot bed but at £179, couldn't afford it. The one we brought was only £69, and I didn't really think it would last. But was surprised at how solid it felt when we transformed it into the bed", Kate, mum of four, told me.
Cot or cot bed? We went for a cot, and straight into a full sized bed ourselves. Are there any advantages to having a cot bed for toddlers? What do you think?