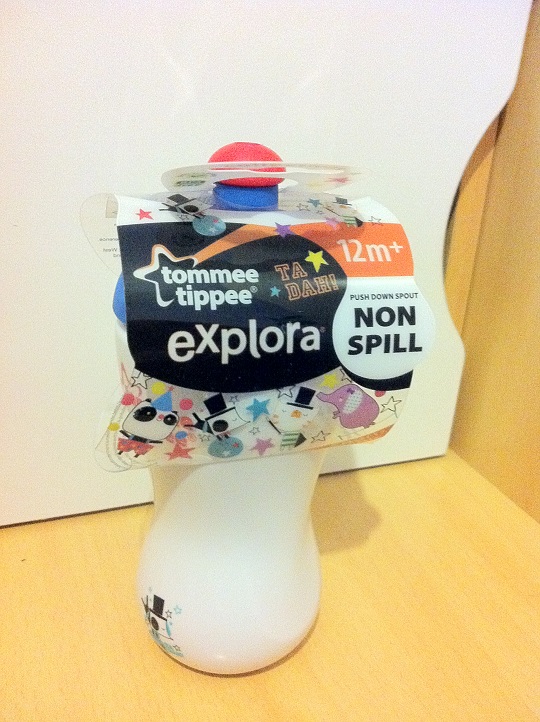 Ta da! That is actually what it says on this Tommee Tippee Explora Sports Bottle we we were sent for review. Along with a cartoon dog in a magician's hat doing a sort of hand stand (front paw stand?).
This non-spill drinks container does sort of promise that holy grail of no-mess that can seem like magic to parents. But does it work? Well we had to try it out...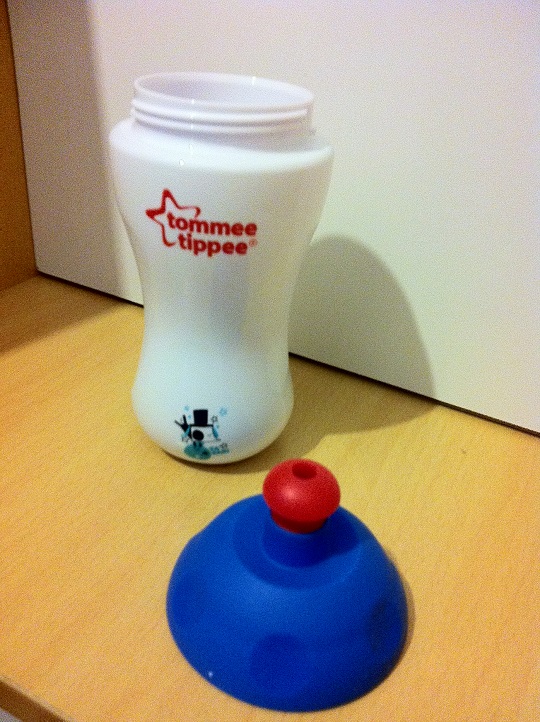 The Tommee Tippee Explora Active Drinking Cup, Sports bottle sized, is priced at around £3.99 each from most outlets. Is that the kind of money you want to spend on one of these? Well it isn't a lot of dosh but we put the bottle through its paces to make sure it was value for money.
First off the specs. This is a 300ml sports style bottle, with a push down spout. The bottle is for babies aged 12 months and older. The main reason I think for the age minimum is that the spout really requires both top and bottom front teeth to open. So if your child doesn't have these yet (and my son was late in getting his teeth) then you might want to hold off.
The spout pulls up easily enough. The bottle is an odd design, very top heavy. The thin waist makes it easy for little chubby hands to grasp, and the top heavy part showed its usefulness the first time the bottle went over the side of the high chair. This made the bottle fall top down, and when it hit the ground this instantly close the spout. How cool is that? Although this didn't always happen every time the bottle was dropped, it was still a good feature.
The lid screws on, and on, and on. A toddler will be able to get this off but a one year old won't.
All in I felt this was a simple design, but functional, and at a good price. I'd like it to be a bit more stylish or colourful, but some people might prefer the iPod white look.
Pros: works really well, nicely designed, holds a good amount of liquid, easy to grasp, much better than a sippy cup.
Cons: a bit bland in the design, older toddlers will open it
Overall verdict: 10 / 10