Tiny Love Take Along Mobile Was £21.99 Now £9.37 @ Amazon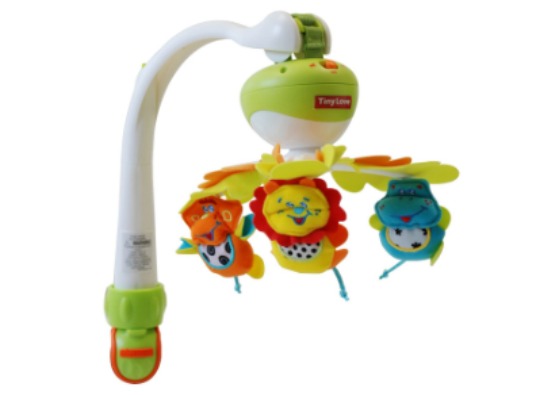 This Tiny Love Take Along Mobile is on special offer at Amazon right now, reduced from £21.99 to just £9.37.
I've already raved about the tiny love cot mobile but this is a handy portable version of the same, and this price is great news.
It's a 3 in 1 mobile so it fits most travel cots, car seats and strollers, and plays up to 30 minutes of five different continuous melodies. There's a designated connector for each mode of use, and the cute colourful, soft dangling animals reportedly help to improve language and visual development. It does require batteries, so don't forget those!
Customers have rated this item 4.4 out of a possible 5 stars and here's a fairly typical review:
"I bought this item for my 3 month old little girl and she absolutely loved it, still using it now every single day. It does everything it says on the box. I use it mainly on the cot when I put her down to sleep (morning naps, lunchtime naps, evening bed time). The reasons why I choose this one over other mobiles are:

1. 30 minutes of continuous music with different lullabies. It stops automatically at the end.
2. You can easily take it along with you where ever you go as it is compact.
3. The little characters captivate the attention of your baby as they are not too big. My little girl always smiles at them.
4. Great value for money for all you get.

I would really recommend this item."
Just in time for Christmas, too!
With thanks to Zobobump @HUKD