Tesco Clothing Clearance Sale 3 For 2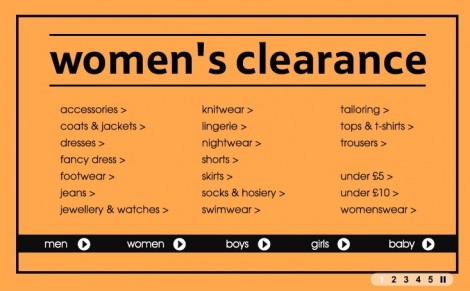 All sale items at Tesco Clothing are now 3 for 2 which means you can nab some seriously cool bargains right now. The sale ends on Sunday 23 January so don't hesitate if you're on the prowl for fresh wardrobe essentials.
The Tesco Clothing sale includes baby clothes, women's clothes, men's clothes, and boys and girls clothes. In the Men's and women's clearance you will find jewellery and watches, swimwear, suits, trousers, t-shirts, jeans and more are included in the sale.
You can either shop by item or by price – which is very useful – and there is quite a nice range to choose from. In the children's and baby's sale there are not as many categories (obviously) but you can also shop for price or you can trawl through everything that's on offer.
The sale has some fantastic bargains included and while you'll have to close your eyes at the horror every now and again, there is definitely a gem or two hiding inside. There are also some shoes in the sale, some good school shoes actually, so make some tea, sit back, and do some shopping.
And if you spend over £50, delivery to your door is nice and free. Yum.
Thanks to bubblehead1984 at HUKD!