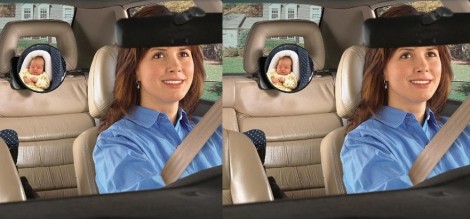 Tesco Direct are selling the Sunshine Kids easy view mirror that makes a new parent's life a hundred times easier and less stressful. Usually retailing for around £11.95, this has now been marked down by 50% at Tesco to only £5.97.
The Sunshine Kids easy view mirror is a stroke of genius and I wish I'd known about these when my daughter was born. You attach this cleverly designed mirror to the back seat of your car so you can watch your baby in her (or his) rear-facing carseat.
The back seat mirror rotates 360 degrees, so you have lots of room to adjust it to suit your conditions, and it pivots on a ball and socket joint to maximise your view. The mirror can be attached securely to any headrest.
The shallow, convex shape offers the largest and clearest reflection around, and the price is excellent. If you are thinking of nabbing a useful present for a new mum, why not nab her one of these instead of a blanket. She'll thank you, lots.
Thanks to lucerysmum at HUKD!