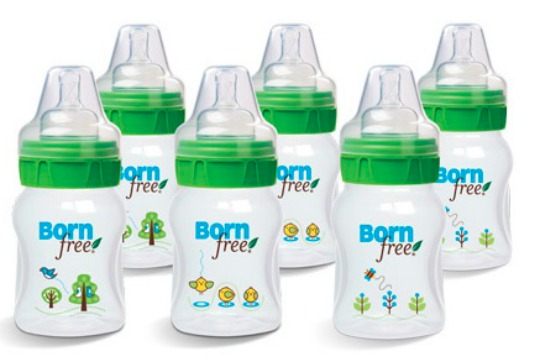 Summer Infant Born Free sent us two products from their baby feeding range to review. First up is their 9oz Eco Deco bottle (£9.00 for a pack of three from Amazon) which purports to mimic natural milk flow, and features something called Naturally Fuss Free, ActiveFlow™ Venting Technology which is apparently clinically designed to reduce colic symptoms. It's also dishwasher safe and free from BPA and PVC. Lovely jubbly. But is it any different from any other baby bottle?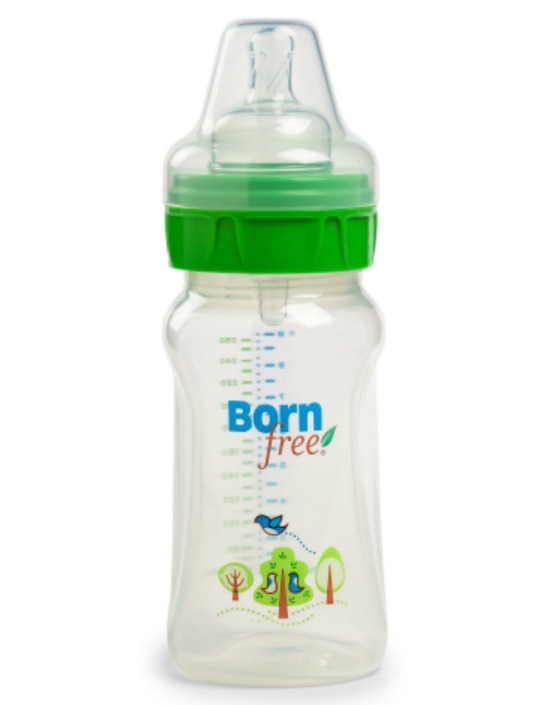 Well, yes, actually. They're fiddly to put together and you'll need a few practice runs to get all the components in the right place, but the inner valve and air vent really do seem to allow the baby to control the flow of milk. (Teats come in varying flow rates.)
When we tested this the baby did none of the frantic guzzling that can sometimes happen with other makes of baby bottle, and when our little tester paused for breath or just to pull her mother's hair mid-feed, there didn't seem to be any of the vacuum effect that can cause a build-up of air inside the bottle.
Our tester isn't a colic sufferer so I can't vouch for the manufacturer's claims that this bottle can minimise colic symptoms, but after our test-run she was happy and contented, and certainly didn't need an excessive period of being winded.
It's also easy to hold and the 'green' design, in-keeping with the bottle's eco-friendly credentials is both a talking point and pleasing to the eye. Which isn't really that important when it comes to a bottle
We also received the 7oz training cup (£4.99 from Amazon) and my favourite thing about Summer Infant Born Free feeding products is that all the various bits and pieces are interchangeable. Now THAT is a genius idea that can surely only have been dreamt up by a parent who knows how infuriating it can be when you lose the valve or lid of a favourite cup. That little feature adds an extra affordability to items in the Summer Infant Born Free feeding range, too.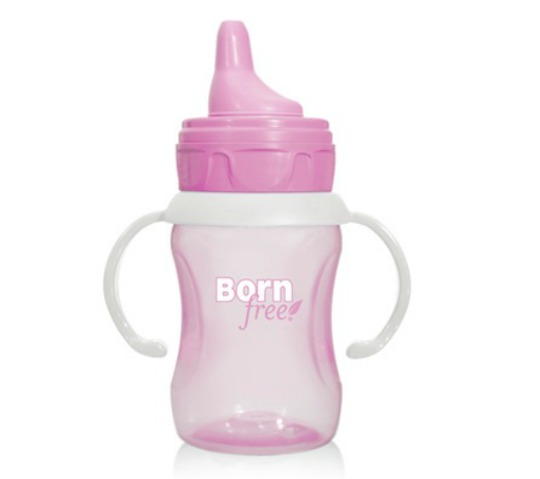 The training cup is available in four different colours - pink, purple, green or blue, and is designed to help baby transition from bottle to cup. It also features ActiveFlow™ Venting Technology to help reduce bubbles and gas, and has a soft, teething-friendly spout, and handles designed for little hands. It's also BPA free and dishwasher safe.
I have to admit that it's harder to single out any particular features of this training cup, compared to the Eco Deco bottle. But to be fair one training cup is pretty much like any other. I think this is a pretty good price and it's a good size. It's great that it's free of chemical nasties, and I like the ease of being able to chuck it in the dishwasher. It's also easy for little fingers to get to grips with and I like that it has two handles - it hangs on buggy handles pretty well. It has a spill-free spout which is a must for a trainer bottle.
Summer Infant Born Free products are available from Babies R Us*, Kiddicare* and Amazon.
Pros: The bottles and cups all have interchangeable parts, so you can pop the trainer spout on your bottle or put the bottle teat on the cup while you're making the transition, and if you misplace any of the valve bits you can simply use ones from another bottle or cup. That's a clever idea.
Cons: None that we encountered. Both the bottle and the training cup are a tony bit fiddly to get to grips with - it's not a case of just screwing the lid on. You do have to get the hang of putting the thing together properly but it's hardly taxing so I wouldn't really even call it a con.
Overall: 9/10.