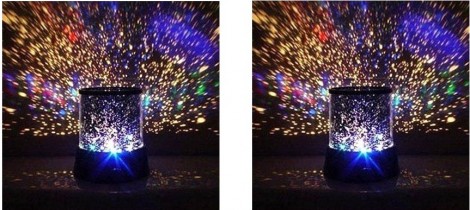 The Star Master cosmic light projector has been marked down from £24.99 to £13.99 on Amazon – a saving of 44% and £11. It is a pretty cool gizmo that has been designed to calm nerves and soothe humans into sleep.
I am particularly amused by the title of the product on Amazon. They have called it "The fantastic Star Master bedroom cosmic light projector" – how's that for a moniker? This gizmo allows you to fall asleep under the "stars" as it projects images of the solar system onto the walls and roof.
I have to admit that I really love stuff like this. The Star Master uses projector techniques to show you the entire universe in red, green, blue and clear sequences. You can choose the dominant colour I think, and then relax and enjoy as the star images are reflected around your room. They have programmed approximately 10 thousand stars too!
The Star Master needs a mains supply for power and the adaptor is included for ease of use.
Thanks to Kellerman at HUKD!