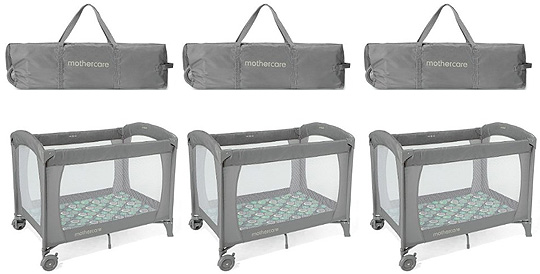 Mothercare are selling their Serenity travel cot for £39.99 instead of its full £79.99 retail price, it comes with free delivery too; hurrah!
Have baby, will travel!  If I was ever asked to compile a Top 10 list of baby equipment (and I might just put one together anyway) then a travel cot would be on it.
HOWEVER, it would be a nice, simple and straightforward one - like this Serenity travel cot - not one that can sing, dance, cook the dinner for you and requires a re-mortgage of your house to be able to afford it.
This Serenity travel cot is one of the fab' and simple ones and is totally fit for purpose - sleeping whilst away from home!
It comes in its own carry case, is easy to put together and has a secondary lock for extra assembled security.  It features two wheels on one end which makes it easy to move around when it's up, has four mesh sides so your baby can see out and you can see in and has a removable mattress.
A quick word on travel cot mattresses - they're never very thick (otherwise they'd be massive and bulky to carry around) so I always put a couple of blanket on the top to make things a little more comfy.
Remember, delivery of this Serenity travel cot is free so your total investment is just the £39.99, OR you can collect it in-store for free if you prefer; marvellous.
Happy travel sleeping!