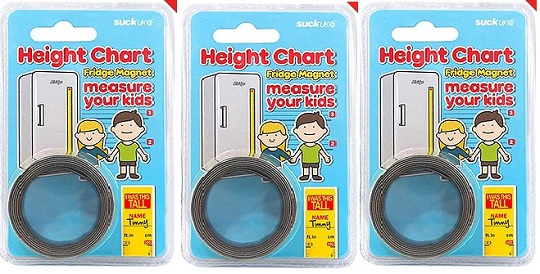 This fridge magnetic height chart which was £7.50 has been marked down to just £2.99 at Strawberry Fool. Standard delivery is FREE for all orders over £30 in value. Delivery times are listed during the Checkout process but their guideline is three to five days. For orders under £30.00, Standard Delivery costs just £2.95. If you require Next Day delivery, their Express Delivery courier service is only £6.95 and available Monday to Friday.
Record the height of your children as they grow with this magnetic tape measure which can be stuck to your fridge. You can then keep it forever, as a tangible record of the development of your offspring. Its also much better than scratching it into a door frame like your parent did - especially in rented accommodation. Buy one for each of the children you know.
This is a great gift for new parents or yourself and you'll be amazed how much your kids grow in just a year. And for under three Quid, what a bargain!