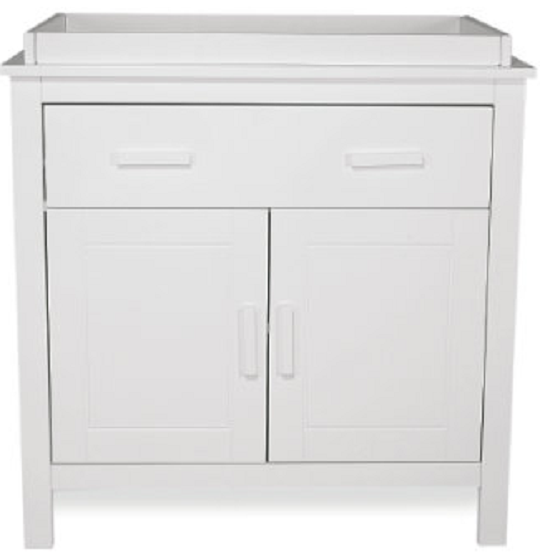 This classic white Mothercare Jamestown changing unit has been reduced from £350 to just £175! That's a saving of 50% PLUS you get free delivery into a room of your choice! Just order now and Mothercare's home team will call you within 2 working days to arrange a suitable delivery date with you.
The Mothercare Jamestown changing unit combines practicality with cosy charm and works brilliantly in any nursery, Its got plenty of room to change your baby on top of the unit, a cupboard with shelf inside for easy organisation of your baby's things and a drawer for easy access when changing your little one's nappy. Its also a decent height, meaning you don't have to bend over and get backache while changing your little one. Its also easy to clean – just wipe with a damp, soft cloth but avoid abrasives, bleach, alcohol or ammonia-based household polishes. Bear in mind the changing unit must be fixed to the wall with the wall strap supplied.
If you're looking for a full nursery solution check out Mothercare Jamestown's matching wardrobe (was £350 now £175) and cot (was £199 now £99.50). Alternatively you can get 50% off the entire collection – that's the changing unit, wardrobe and cot for just £399.50! With bargains like this you can't help but love Mothercare!