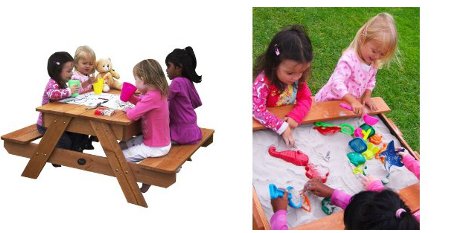 There's 35% off this dual purpose sand and picnic table at Amazon at the moment, making it £64.75 instead of £99.99. Ideal if you have a small garden and need to get best use out of each bit of space.
We're about to move into a new house – a little something with a garden – and I cannot wait. It also has a conservatory, which makes me feel a little like I'm my gran every time I say the word 'conservatory' for some reason, but it has already been earmarked as my daughter's playroom, so that our lounge is acceptable for visitors and doesn't look like a whirlwind has been through it.  I've been on the lookout for furniture for the conservatory since we don't really have anything suitable for the child's paradise I hope it will become, and this little table seems pretty fit for purpose.
It is also suitable for outdoor use, and is convertible as either a table or a raised sand pit – I'd like to say that should reduce mess, but somehow I doubt it! For indoor use, I'd definitely use that area to store art and craft materials, methinks!
This table is made from FSC certified timber and has rounded corners for safety. It is supplied flat packed with easy assembly instructions.  Assembled it is L1.21 x W0.89 x H0.50m and sand isn't included.