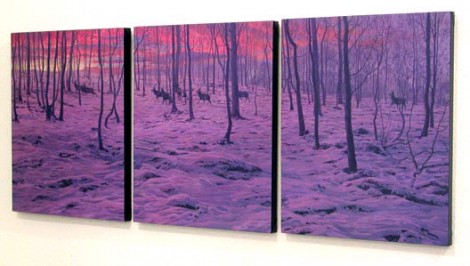 It is with some trepidation that I approach this review because my recent deal post had a lot of PlayPennies readers complaining about the cost of wall canvases. So I've reviewed both a professional canvas from Jessops and one from the suggested eBay shop, so read on, prepare your comments and let's see what you think when I'm done.
The cost of this canvas is £45 and it offers high UV resistance, 100 year manufacturer's guarantee, a range of different wooden frames, supplied hanging fixtures and is printed using a 12 colour inkjet printer.

I have to admit that I was very impressed with what I could do for my £45. You don't have to select just one image, you can also create a variety of different photo collages that don't cost anything more to make. I chose to use my wedding photos and had one main black and white image, with three colour images running down the right-hand side.
Setting these up didn't take long at all. This is the thing, you get to move the images around so they fit according to your likes or dislikes and you can easily add or remove images without having to upload them over and over again.  You also get a preview mode so you can see how your finished work will look before you commit to buy.
I timed myself while I was setting up, and it took me less than five minutes to upload the images I wanted to play with and about half an hour of playing around with positioning to get the exact look I wanted.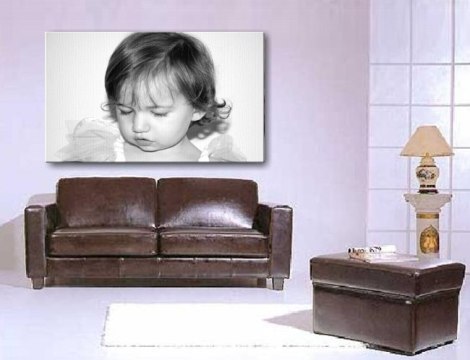 Now, back in the great Wallcreate debate, one of our helpful readers pointed out an eBay seller that does wall canvases for low prices. He's selling 50.8cmx76.2cm (20"x30") for £26.50 which is a low price for a huge canvas but without any of the frills you get with Jessops. I ordered one to compare with the Jessops frame I received.
The Jessops came out beautifully with my colours rich and defined and the excellent quality. The canvas grain is light and hardly visible from far away. The eBay canvas was more grainy for the same images (all very hi-res and taken by a professional photographer) but it is substantially bigger. In terms of impact, the colours of the Jessops won out but the enormity of the eBay was impressive. However, the first impression is that the Jessops canvas is more vivid and less grainy than the latter.

Overall, I have to say that I preferred the experience of using Jessops as it was a faultless ordering procedure and gave me far more control over the design and layout. This was, for me, worth the extra price and size limitations dictated by my budget. I now have a stunning reminder of my wedding that captures four different moods and moments, as opposed to just one.
And Finally
I am voting in favour of Jessops for quality and control, and I also discovered several other deals they have on their site that got me a photobook for less than a tenner (26 pages) that is just stunning. I will also confess to a bias towards the more professional touch when it comes to anything to do with photographic printing as I have been burnt several times using eBay. Overall the picture quality was better and I much preferred the options on offer from Jessops. Emma has also reviewed the canvas prints from Photobox if you want to compare.