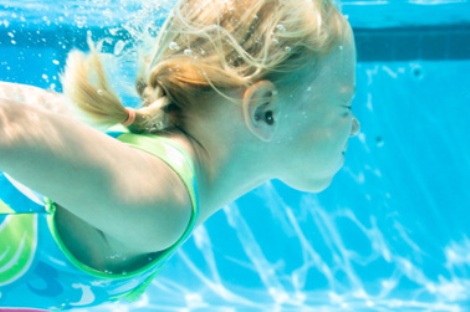 PlayPennies just got a divine Morrck Splasha in for review and it has been such a hit with the kiddies. This ingenious idea has been done before, but not with as many clever extras as Morrck have managed to include.
The Splasha is, essentially, a big scrummy yummy towel that's been fashioned into a hooded wrap complete with pockets and studs for extra storage and cosiness. They come in a two different colours and designs and will fit kids from age one to age seven with ease.
We got a lovely white Splasha with bright spots on it and, no matter how hot it was outside, my daughter insisted on wearing it. She absolutely loves it to pieces and it now has to be used at the beach, at the pool AND after a bath.

These towelly delights retail for £19.95 so they are quite a bit more expensive than a bog standard towel. Not brilliant if you're on a budget, but simply delicious if you're looking for something that will last for ages and keep your kids snugly without falling off.
Yes, the biggest thing about these Splashas is their utter usefulness. Normally a day at the beach, for us anyway, consists of lots of happy splashing around followed by lots of moaning about how cold she is and can she go home now. With this chap, she simply swung it on and carried on playing in the sand. It was nice to not have to hurriedly stuff everything into the beach bag and gallop home with a whiny toddler.
That alone made it worth the price for me.
The next thing I really liked was the fact that you could button the Splasha up the sides with press studs. Much better than wrestling with a zip and you can leave the sides more open if the weather is too hot but baby is still wet. This makes it a genius product for festivals and camping. Perfect for keeping little ones warm.

The hood is also a great idea for keeping their heads covered in the sun. If you're anything like me, you'll often forget to pack a hat for your little one or have lost them all in a freak tidying incident.
The towelling itself is lovely and soft. Really thick and luxurious. It made me want one, although I'm sure an adult wandering about in one of these would look a tad insane... A wonderful trick that I was taught by our very own Sarah was to not wash towels with softener.
Apparently, softener stops the towels from absorbing water and things properly and so results in a stiff and starchy towel rather than a lovely cuddly one. Try it with your normal towels too. Just wash at 40 degrees (or 30 if you're about saving the planet) without any softener and prepare to be amazed. I was!
The fabric used to make the Splasha is 92 percent cotton and eight percent polyester, so it feels absolutely luxurious. I was very impressed with the quality and my daughter really loves how comfortable it is to wear. Although, she wore it before I knew about the softener trick and moaned about it being scratchy after its first wash.
The only down side of the Morrck Splasha is that it is a pricey item for the budget conscious parent.
And Finally

While the price may be somewhat more than you can stomach right now, this item does get a very high thumbs up from me. I would definitely buy it as a gift for a special occasion, like Christmas pressies for other kids in the family, because it is just so darn useful.
The lovely little extra touches such as the hood and pocket, plus the fact that my daughter dried off super quickly and comfortably, make it a charming must-have for me.
It is beyond cute. I've even included a pic here for you!