Review: Splashy Fun For Father's Day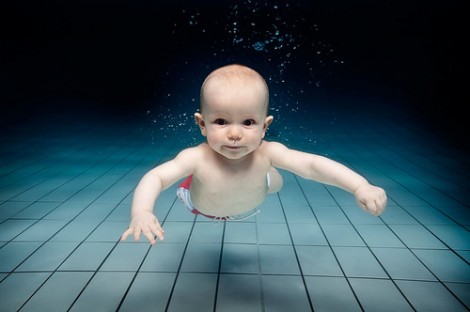 What could be a better Father's Day present than a chance for Dad to spend some quality time with his kids? Well, the Splash About range of swimming equipment for children learning to swim are a fantastic way of getting them into the pool, and Dad into the (ahem) swim of things.
PlayPennies were sent two sets of Splash About swimming products to put through our usual rigorous testing procedures. We sent them across to Adam and Kev (husband to our very own Nickie ), our two resident Dads for them to try out. The each got a different kit - Adam the Water Buddies set for older children, and Kev the Happy Nappy kit for the littler ones.
But first, some fascinating facts about swimming with children...
A recent survey showed that 23.4 percent of men who took their children swimming were more likely to feel an increased connection with their baby than the 19.7 percent of mums.
Plus, fathers were more likely to feel more confident with their parenting skills after teaching their children to swim. So, in light of these fascinating facts it's clear that teaching a child to swim is good for Dad.
Actually, swimming with children and babies is very good for everyone all round. Babies love the warmth and the sensation of lightness and it has massive benefits for co-ordination, confidence and health. Swimming promotes balance, strength, stamina and overall fitness and children (especially babies) that swim are more likely to sleep better at night.
Babies spend their first nine months of life surrounded by water - they have affinity for it and feel secure and happy in its embrace. Introducing your baby to swimming from a tender age is not as strange as you may think and actually delivers tangible benefits. 
Children under six months old have some incredible built-in reflexes that protect them in water. One of these, the dive reflex, has baby automatically block his throat when under water so that he cannot swallow water.

You may have seen photographs of babies with open mouths submerged beneath the water – well those babies' dive reflex has kicked in and their throats are completely sealed. Like many of the other reflexes exhibited by babies to protect them in their most vulnerable years, this one is pretty amazing. 
Tactile and visual cues are an essential part of a child's development. The regular use of touch helps a child to feel secure and loved, especially when accompanied by eye contact. Swimming gives you and your baby a chance to spend some quality time together in a relaxing environment that actively promotes holding each other, and looking into one another's eyes. 
During the course of your lessons there will be plenty of eye and skin contact and this really does help to build on the parental bonding process.  If you have more than one child then this is a fabulous way of getting to spend some unique one-on-one bonding time with your newborn. The two of you can luxuriate in uninterrupted eye contact and cuddles.

According to some research there are even a few neurological advantages to baby swimming. These include faster language and social development. Although the latter can be as easily improved through other extramural activities, they are an added extra to slot onto the list of benefits offered by teaching your child to swim. 
If you're reading this and you're the proud owner of an older child, perhaps even a preschooler, that hasn't been introduced to the water yet, don't despair. There are lessons for children of all ages and abilities and you've done absolutely no lasting damage at all. Yes, you may find that they are reluctant to climb into the pool and may even cry in fear.
Just remember that  you would also be daunted if someone bunged you into an enormous vat of water without any clue on what you're supposed to be doing once you're in it. However, don't give up at the first hurdle. There are plenty of preschoolers that have overcome their fear of water and are now happy swim babes.
 There are a few things you do need to consider before you gallop on over to your nearest leisure centre swimming pool though. Ensure that, if you do go for classes, your teachers are fully qualified with either the STA or ASA, monitor your baby's temperature and make sure they don't get cold (at least 31 degrees Celsius is comfortable for babies) and don't stay in the water for too long.

Well, after that long list of research and general praise for the wonders of teaching a child to swim, I bet you're wondering about the actual products we got in for review.
"The Water Buddies floatsuit that arrived was in lurid pink and rather terrifying," said Adam, Dad to Caitlin, "However, my daughter fell in love at first sight and insisted we put it on straight away. It was pretty difficult to get her into it because it's all one unit and the material is quite sticky, as it should be, but once it was on she was very comfortable."
Adam took Caitlin swimming the next day and followed the instructions on the pamphlet closely.
"The instructions tell you to remove several floats from the costume before putting the child into the pool," he said, "Then, once they are in the water, you add or subtract these until your child is happily balanced and floating. This was easier said than done. My daughter is still quite nervous in the water so I had no chance of seeing if she could float after each addition."

The Water Buddies floatsuit comes with sun protection with extra cover around the neck, back and chest with short sleeves and legs built into the suit. Offering a protection of SPF 50+ and easily modified to suit different levels of swimming ability, they are a very clever idea.
"I liked the fact that my daughter could run into the sea and she was protected from the sun all the time," said Adam, "Plus I think the suit really added to her self confidence because she used to need a good ten to fifteen minutes of clinging to me in the water before she was brave enough to go it alone. Now she won't let me near her at all and confidently swims all over the place. It's fantastic to see."
Kev and Annie received the Happy Nappy System which is made from supple, stretchy neoprene and is finished with soft, snug, deep bands of fabric with a high rubber content to stop leakage.

The NappyWrap included is a soft, white cotton nappy wrap that is held in place by Velcro and can be accompanied by the Nappy Liners in supersoft and biodegradable fabric. These are designed to hold solids and can be used in conjunction with the normal nappies and in water.
"Annie is 18 months old and she loved the bright pink colour of her Happy Nappy," said Kev, "It was a bit like a wetsuit with elasticated waist and leg cuffs. It was a very snug fit and we experienced no leaks at all."
Both Dads said that they thoroughly enjoyed the suits, even if they were tricky to put on initially. The kids also loved wearing them and Caitlin told her Dad that she really liked how it kept her feeling warm and safe while she was in the water.

In terms of washing these critters, all the mums were a bit worried. The colours are extremely bright and we were all thinking of lurid pink laundry and colour runs. However, the opposite is true. After the fairly exhaustive process of removing all the floats, these suits washed up brilliantly with no sign of a dye or a bleed anywhere on the accompanying washing.
"It washes really well," said Kev, "There was no colour leakage at all, although we did wash it with towels the first time to be on the safe side."
And Finally
The Water Buddies range caters for children from one to six years old and comes in three different flavours – Short John Floatsuits, Sun Protection Floatsuits and Designer Floatsuits – and the prices start from around £19.99.
"We thought the price was quite high at first," said Adam, "Then we started using it and it is worth every penny. We even go swimming more often because it really has given my daughter more confidence in the water. Just for that fact alone I would pay twice this amount."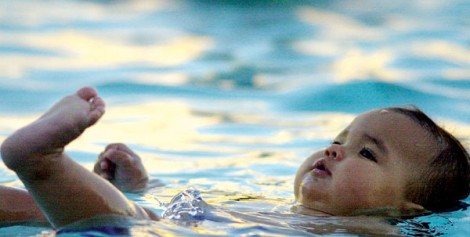 The Happy Nappy costs £8.35 with the extra costs of £4.99 for the NappyWrap and £1.99 for a pack of 25 Nappy Liners. "We would definitely use this product again," said Kev.
And for those of you who are desperate to get one of these kits now, Splash About have got some fab special offers running at the moment.