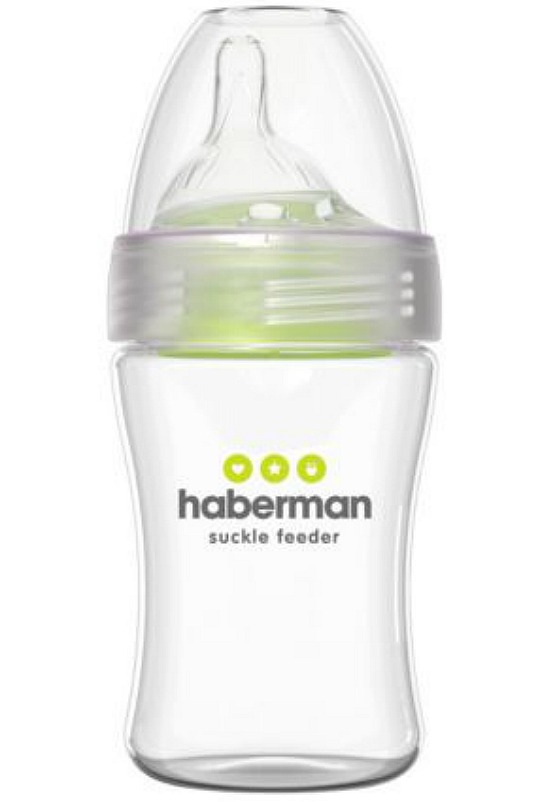 The Haberman Suckle Feeder (£7.50) is a baby bottle designed to mimic the way a baby naturally suckles, so it works as a first feeder for breastfeeding mums considering a bottle, or for those wishing to combine breast and bottle feeding.
Billed as being 'truly better than a bottle', this product is part of Haberman's Breastfeeding & Nurture range and is available from Boots* stores and from Boots.com in the UK.
 Suitable for use from 0+ months and with a capacity of 260ml, the real appeal of the Haberman Suckle Feeder is that it is designed to filters out bubbles and froth, preventing your baby from swallowing air - which is purportedly the 'ultimate solution to colic reduction'.
I can't really comment on that claim as my baby doesn't suffer from colic, but I'm familiar with Haberman bottles from when my older children were babies several years ago. Back then we used a Haberman bottle in order to get baby used to taking a bottle of expressed milk - without causing the dreaded 'nipple confusion' - and it worked a treat. At the time my baby just wouldn't take to any other bottle, which meant my husband couldn't share the night feeds or even take the baby when sleep deprivation left me in serious need of a few hours of uninterrupted kip.
This bottle is different from the one we used then, but the principal is pretty similar. It's designed to allow your baby to suckle just like natural feeding, so they won't have to learn a different way to feed. It uses variable flow technology to emulate the breastfeeding process, which (according to the press release) starts and ends with "non-nutritive suckling, when little or no milk flows."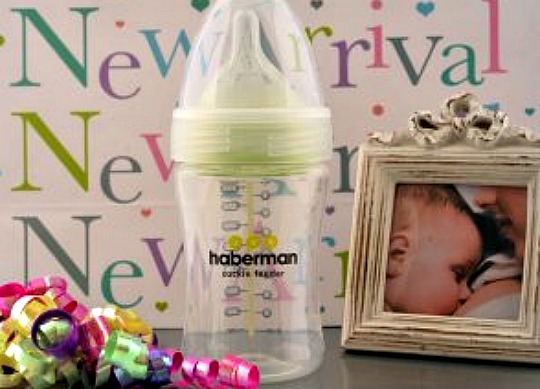 What that means is that the teat remains full at any angle so your baby can feed in a natural position (from the teat, not the bottle) and air intake is minimised, plus the feed is delivered by suckling on the teat rather than flowing under gravity as in conventional feeding bottles.
Haberman claim it's the only bottle designed to reduce the likelihood of air ingestion from outside the bottle, inside the bottle and inside the milk, and the patented valve system helps baby feed at their own natural pace. It basically 'shuts' between each suckle, so your baby can relax and breathe normally. Here's what they say:
"The Haberman Suckle Feeder responds like the breast to the action of lips, jaws and tongue, encouraging slower feeding and longer suckling, to properly exercise and develop muscles allowing your baby to feed at his natural pace.   This leads to improved speech development and reduces colic, over feeding, guzzling and the risk of feed entering the middle ear or respiratory tract."

"Patented technology means that the air the baby can swallow during a feed is significantly reduced."

"Designed with parents in mind, the Suckle Feeder is easy to assemble hygienically at 3am, with a baby in your arms." It's impossible to comment on all those claims since I'm no expert when it comes to baby feeding bottles - but I will say that I would recommend giving the Haberman Suckle Feeder a go if you're struggling to get your baby to accept a bottle, or if your little one struggles with colic.
I really rate this bottle and particularly like that it's so easy to put together, unlike some of the other bottles we've tried in the past. The shape makes it very comfortable to hold when feeding baby, and my baby certainly took to this bottle like a duck to water.
Pros Brilliant for switching between bottle and breast and purported to be ideal for reducing colic.
Cons None that I can think of. It's certainly not in the cheap camp of baby feeding bottles, but for a bottle that's beyond ordinary I think that's to be expected.
Overall verdict 9/10
There are also some really helpful resources on the Haberman website - check out this information on how to make the transition to a Haberman Suckle Feeder.